How Good Marketing Makes for Better Democracy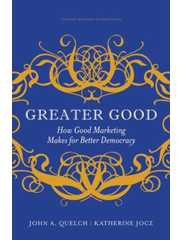 Click here to make a reservation
Successful marketing by its very nature is customer focused. Is government-which should be by the people and for the people--similarly focused? Why is political marketing more negative and fear-driven than product marketing? And why are government programs such as the 2006 Medicare drug plan so complicated as to be frightening to endusers: the voters?
According to Harvard Business School's Professor John Quelch, and Associate Researcher Katherine Jocz, the answer is that government is not nearly focused enough on its "customers"--in effect, its citizens. They argue that the workings of government and politics could vastly improve if the realms of politics and marketing overlapped.
So just in time for the 2008 Presidential campaign year, Quelch and Jocz will elaborate on this theme for the Club members and guests. Their new book, Greater Good: How Good Marketing Makes for Better Democracy offers provocative proposals for closing the widening gap between "sophisticated marketing practices and the creaking processes of democracy," according to one reviewer.
Quelch and Jocz propose that marketing has a greater purpose, and marketers a higher calling, than simply selling more widgets. The authors contend that marketing performs an essential societal function--and does so democratically. They will lay out 6 fundamentals that marketing and democracy share. And then they will draw on current and historical examples from economies around the world to illuminate marketing's critical role in the development, growth and governance of societies.
The Speakers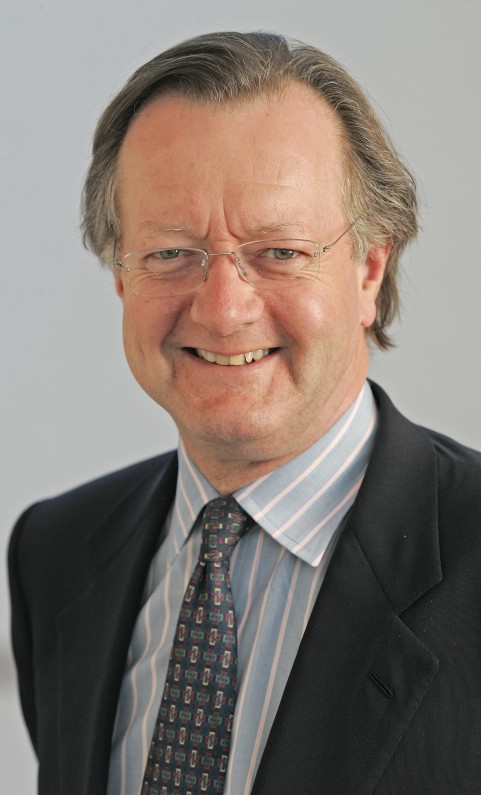 John A. Quelch is Senior Associate Dean and Lincoln Filene Professor of Business Administration at Harvard Business School. Between 1998 and 2001 he was Dean of London Business School. Prior to 1998, he was the Sebastian S. Kresge Professor of Marketing and Co-Chair of the Marketing Area at Harvard Business School.
Professor Quelch's research focus is on global marketing and branding in emerging as well as developed markets. His current research projects are involved with understanding the contributions of marketing to the functioning of democracies and formalizing appropriate marketing and customer metrics for periodic review by boards of directors. Professor Quelch is the author, co-author or editor of twenty books, including Business Solutions for the Global Poor: Creating Social and Econominc Value (2007), The New Global Brands (2006), Global Marketing Managment (5th edition, 2006), and The Global Market (2005). He has published articles on marketing issues in leading management journals such as Harvard Business Review, McKinsy Quarterly and Sloan Management Review.
Professor Quelch is a non-executive director of WPP Group plc, Pepsi Bottling Group, Gentiva Health Services and Inverness Medical Innovations Inc. He was born in London, England, was educated at Exeter College, Oxford University (BA and MA), the Wharton School of the University of Pennsylvania (MBA), the Harvard School of Public Health (MS) and Harvard Business School (DBA).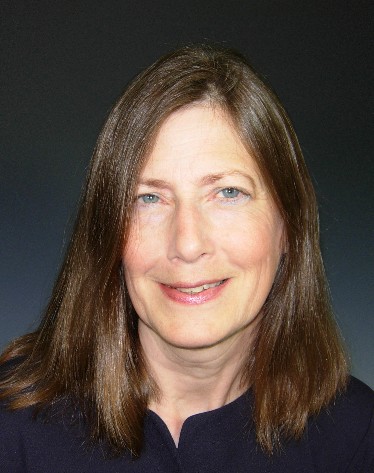 Katherine E. Jocz is a Research Associate at Harvard Business School. Previously she was senior director of networks and relationships and thought leader at Marketspace, a Monitor Group company. Formerly she was vice president of research operations at the Marketing Science Institute. She has served on the editorial review board of the Journal of Marketing, the board of directors of the Association for Consumer Research, committees for the annual Marketing and Public Policy conference, and the U.S. Census Bureau Advisory Committee.
Wednesday, March 19th

Location: The Harvard Club, 27 West 44th St. (between 5th & 6th), New York City
Time: 6:30 PM Registration; 7:00 PM Program
Cost: No Charge
Organizers: Ava Seave '82, Carla Graubard PMD-49, Barbara Morrow '67, HCNY Program Committee
Click here to make a reservation