Breakthrough Business Books: Meg Whitman, Former EBay CEO, on Life and Business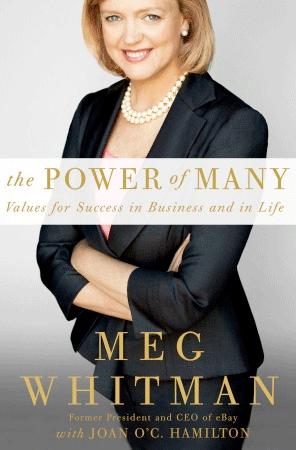 Click here to make a reservation
During her decade at the helm of eBay, Meg Whitman transformed it from a tiny start-up into a nearly $8 billion global powerhouse, revolutionizing the way goods are bought and sold online. Fortune magazine twice named her the Most Powerful Woman in Business.
With the vitality, candor, and often self-effacing humor that is her trademark, Meg lays out the ten core values in her new book, The Power of Many, that she credits not only with her strategic success but with many of the joys and satisfactions of her private life. Values such as trust, authenticity, courage, and validation are not naive, Meg shows us, and they are definitely not a luxury. Rather, they are essential tools for success that go hand in hand with traditional business practices—like holding oneself accountable or growing a company efficiently. She believes they are the foundation of strong management in the twenty-first century. Today, technology, and the transparency it brings, demand that organizations demonstrate a character that aligns with the values of their communities.
In addition to her new book, The Power of Many, published by Crown in January, Meg Whitman has announced her candidacy for the office of Governor of California.
Tuesday, January 26, 2010
Location: The Harvard Club, 27 W. 44th Street (between 5th & 6th Avenues), NY
Time: 11:30am Registration, 12:00pm Program
Cost: Cost includes a copy of the book, The Power of Many: $25/Members; $35/Non-members & Guests; please register by 4pm on January 25th (lunch not provided)
The Harvard Club maintains a dress code of business casual
Organizers: Gary Kreisman, Fatou Fall, Barbara Morrow, Harvard Club Program Committee
Event Sponsor: Harvard Club of New York

Click here to make a reservation