HBSCNY Annual Event: 2011 Leadership Dinner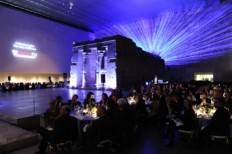 We expect alumni attendance--young, old, and in-between--to be at an all-time high this year; especially following last year's spectacular dinner. You will surely be inspired by the exciting slate of presenters and honorees:
Thomas C. Barry '69, Business Statesman of the Year
Robert S. Kaplan '83, Leadership Award
Ilene H. Lang '73, John Whitehead Social Enterprise Award


Business Statesman Award:
Thomas C. Barry '69
Thomas C. Barry ('69) is CEO & Founder of Zephyr Management, L.P. Prior to founding Zephyr, Mr. Barry was President and CEO of Rockefeller & Co., the investment management arm of the Rockefeller family, from 1983 to 1993. Previously, Mr. Barry was employed by T. Rowe Price Associates, Inc. from 1969 to 1982. Among other responsibilities, he was President of T. Rowe Price New Horizons Funds, Inc. Mr. Barry received an MBA from Harvard Business School in 1969 and an undergraduate degree from Yale University in 1966 where he majored in Latin American Studies. He is a Chartered Financial Analyst (CFA).

Leadership Awards:
Robert S. Kaplan '83
Robert S. Kaplan ('83) is a Professor of Management Practice at Harvard Business School, Co-Chairman of the Draper Richards Kaplan Foundation and is a Senior Advisor to Berkshire Partners LLC.
Prior to joining Harvard Business School in September 2005, Rob served as Vice Chairman of The Goldman Sachs Group, Inc. with oversight responsibility for the Investment Banking and Investment Management Divisions. He was also a member of the firm's Management Committee and served as Co-Chairman of the firm's Partnership Committee and Chairman of the Goldman Sachs Pine Street Leadership Program. During his career at the firm, he also served in various other capacities including Global Co-Head of the Investment Banking Division (1999 to 2002), Head of the Corporate Finance Department (1994 to 1999) and Head of Asia-Pacific Investment Banking (1990 to 1994). Rob became a partner in 1990. Rob has been a Senior Director of the firm since 2006.
Rob is the founding Co-Chair of the Harvard NeuroDiscovery Center Advisory Board. He is also Co-Chairman of the Board of Project A.L.S., Co-Chairman of the Board of the TEAK Fellowship, Co-chair of the Executive Committee for Harvard University Office of Sustainability Greenhouse Gas Emission Implementation Planning, and is a member of the Boards of the Harvard Medical School, Harvard Management Company (served as Acting President and Chief Executive Officer, November 2007 to June 2008), the Ford Foundation, and State Street Corporation. Rob has been appointed by the Governor of Kansas as a member of the Kansas Healthcare Policy Authority Board. Rob received an M.B.A. from Harvard in 1983 and a B.S. from the University of Kansas in 1979. Prior to attending business school, Rob was a certified public accountant at Peat Marwick Mitchell & Co.

John Whitehead Social Enterprise Award:
Ilene H. Lang '73
Ilene H. Lang ('73) is the President & Chief Executive Officer of Catalyst, the leading research and advisory organization working to change workplaces and improve lives through advancing women into business leadership. She was appointed President in August 2003 and named Chief Executive Officer in September 2008.
Ms. Lang brings energy and corporate savvy to the advancement of women in every sector of the global marketplace. Her expertise on the advancement of women in corporations and professional firms, corporate boards and governance, workforce demographic trends, the business case for women's career development, innovative strategies for retaining and advancing women, and work-life effectiveness is often called upon by the media, member companies and firms, and other organizations. She regularly addresses national and international groups of senior leaders in a variety of business, academic, and public policy venues.
Having broken barriers in her own career, Ms. Lang is broadly recognized as a pioneering female high-tech/Internet executive. She was the founding CEO of AltaVista Internet Software Inc., a subsidiary of Digital Equipment Corporation. Prior to that work, Ms. Lang was Senior Vice President of the Desktop Business Group at Lotus Development Corporation, responsible for a $500 million business. She has also advised CEOs and entrepreneurs as a board member, coach, and investor in women-led technology companies.
Ms. Lang was named to the Global Agenda Council on the gender gap at the World Economic Forum, and she is a member of the National Board Development Committee of the Girl Scouts of the USA. She has served on numerous other corporate, private, and nonprofit boards in the past, most recently Art Technology Group, Inc.
Ms. Lang earned an A.B. degree in history and literature from Radcliffe College and an M.B.A. from the Harvard Business School. She is married and the mother of three adult children.
Thursday, May 19

* Location: The Metropolitan Museum of Art; The Temple of Dendur in the Sackler Wing, New York City
* Attire: Business/Cocktail
* Time: 6:30pm Cocktails/7:30pm Dinner
* Cost of Individual Tickets: $500/Members; $1,000/Nonmembers and Guests; $300/Recent Alums (2006-2010)
* Recent Alums who buy tickets will receive a free one-year Club membership
* To Purchase a Table, Please Contact Julie Spero, Leadership Benefit Office @ 212-245-6570 x21
* Organizers: HBSCNY Leadership Dinner Committee; Thomas Kempner '78, Dinner Chair
ABOUT THE HBSCNY LEADERSHIP DINNER: HBSCNY sets aside a night each year for a gala event to recognize the accomplishments of extraordinary individuals. Through its Business Statesman Award and Leadership Awards, HBSCNY honors individuals who have excelled in business as well as making major contributions to the community. In addition, proceeds from the dinner are used to fund HBSCNY's social enterprise programs for alumni and scholarships. Scholarships include the HBSCNY Fellowship Fund at HBS and multiple full scholarships for local non-profit leaders to attend the Strategic Perspectives in Nonprofit Management Course at HBS. HBSCNY's Community Partner Program provides pro-bono consulting to local non-profits as well as placement on nonprofit boards through an alliance with BoardAssist.