Help Innovative Manhattan Country School Chart a Growth Strategy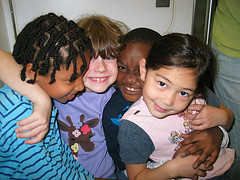 Manhattan Country School (MCS) is at a historic turning point and preparing for significant expansion, based on demand for its educational program and transition from a founder-led entity. School leadership and its Board of Trustees have recently completed an intensive 18-month strategic planning process which included the long-term financial, educational, and leadership needs of the school. The Community Partners consulting engagement will incorporate this work and recommend a multi-phased plan to build the MCS of the future, including a funding strategy that can sustain the school as it grows its programs to spread its mission.
The project is MCS' second engagement with Community Partners. It is expected to last 4 months, concluding with a presentation to the MCS Board in May. Volunteers will work closely with MCS Head of School and its Board of Trustees which includes two HBS alumni (MBAs from 2002 and 2007).
We are seeking volunteers who believe in the mission and vision of MCS and have experience working with or on nonprofit boards of any kind. Interested applicants (HBS alumni only) should complete the Volunteer Application by Monday, February 20, 2012. (If this link does not open, please paste the following URL into your browser: http://www.surveymonkey.com/s/MCS-consulting-project.) Volunteers with experience in independent school education, development and fundraising oversight and strategic planning are especially encouraged to apply. For questions about this project, please contact Margaret Brown, Co-chair of Community Partners' Education Committee.
About Manhattan Country School
The mission of Manhattan Country School reflects the values of the Civil Rights Movement. MCS was founded in 1966 and teaches students in a community with no racial majority and broad economic diversity. It is unique among NYC independent schools in having a sliding scale for tuition that eliminates the concept of scholarship. MCS is also a pioneer in farm-based education and has a 180-acre working farm where students learn to take an active role in environmental justice and energy conservation
---
About Community Partners

Founded in 1998, Community Partners is a program of the Harvard Business School Club of New York. Our mission is to create constructive partnerships between Harvard Business School alumni and nonprofit organizations in our community, the greater New York City metropolitan area, that are seeking assistance with business and management issues. We fulfill our mission by organizing teams of HBS alumni volunteers to provide pro bono consulting and business advice to local nonprofit organizations through well-defined consulting projects.
By donating time and management skills, HBS alumni offer nonprofits cost-free access to the kind of professional expertise they may otherwise not be able to afford. In turn, our client nonprofit organizations offer HBS alumni volunteer opportunities to serve the community in which they live or work in a truly meaningful way.
If you are unavailable for this project but would like to learn more about future Community Partners projects, please fill out this
form
.
Find us on
Facebook
or
LinkedIn
!