Brainstorming to Strengthen the US Rowing Association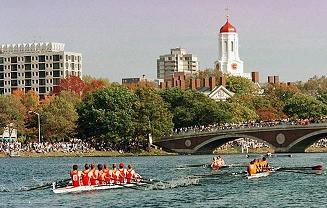 Community Partners is seeking volunteers to attend two brainstorming sessions to generate ideas on how to consolidate and increase membership in the
United States Rowing Association
, the umbrella organization for the sport of rowing.
The mission of USRowing is to provide ongoing opportunities to achieve excellence in rowing in the United States. The population that competes in the organization's rowing events is estimated to be between 80,000 and 100,000 individuals. Of these, about 14,500 are members of USRowing. Unlike almost every other Olympic national governing body with a membership component, USRowing has not required membership to participate in these events over the past 20 years, and now wants to reverse this by instituting a mandatory registry program to unify all youth, collegiate and master athletes. USRowing is seeking ideas on how to market such a program, specifically through a membership fee, which in the past, has been met with strong resistance from its members.
The first 90-minute brainstorming session will take place on Wednesday, May 2nd at 6:30pm in New York City at 350 Fifth Avenue, Suite 4811. We are seeking volunteers who support USRowing's mission and have experience in marketing/communications. Individuals who have moderated brainstorming or focus group sessions are particularly encouraged to apply. Interested HBS alumni should complete the Volunteer Application by Wednesday, April 25th. (If this link does not open in your browser, please visit the following URL: http://www.surveymonkey.com/s/usrowing). For questions about this project, please contact Michael Chen of Community Partners' Environment and Health Committee.
About USRowing
USRowing is a nonprofit organization that is the national governing body for the sport of rowing in the United States. Unlike other sports where size, height and running speed are key selection criteria, rowing is a team sport that is uniquely open to virtually anyone to enjoy. It is a physical lifestyle that once learned is typically maintained for many years. USRowing serves to promote the sport on all levels of competition, including the selection and training of those who represent the US at the international level. The organization registers more than 185 regattas across the country each year and provides programs to educate referees and coaches.
---
About Community Partners

Founded in 1998, Community Partners is a program of the Harvard Business School Club of New York. Our mission is to create constructive partnerships between Harvard Business School alumni and nonprofit organizations in our community, the greater New York City metropolitan area, that are seeking assistance with business and management issues. We fulfill our mission by organizing teams of HBS alumni volunteers to provide pro bono consulting and business advice to local nonprofit organizations through well-defined consulting projects.
By donating time and management skills, HBS alumni offer nonprofits cost-free access to the kind of professional expertise they may otherwise not be able to afford. In turn, our client nonprofit organizations offer HBS alumni volunteer opportunities to serve the community in which they live or work in a truly meaningful way.
If you are unavailable for this project but would like to learn more about future Community Partners projects, please fill out this
form
.
Find us on
Facebook
or
LinkedIn
!