Strengthen Programs that Support Young Women Facing Breast Cancer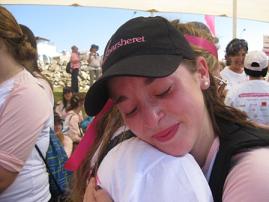 Did you know that 1 in 40 Jewish women of Eastern European descent – nearly 10 times the rate of the general population – carry a genetic mutation that increases the likelihood of developing breast cancer and ovarian cancer? As a result, many Americans in their 20's and 30's face choices about their cancer risk or diagnosis that most of us do not associate with young women.
Sharsheret is a national not-for-profit organization supporting these young women and their families facing breast cancer. It offers a community of support to women diagnosed with breast cancer or at increased genetic risk, by fostering culturally-relevant individualized connections with networks of peers, health professionals, and related resources. Sharsheret's programs are open to all women and men, with a focus on the cultural needs of Jewish women.
You are invited to join a team of HBS alumni to establish key performance indicators (KPIs) to measure the impact of Sharsheret's support and outreach programs, beyond sheer numbers served. You will have access to the organization's strategic plan, historical data, staff, and Board members to help inform your recommendations. Your team's final recommendations will include the metrics to utilize, how to best gather this data, and methods for institutionalizing its collection and usage.
The project is expected to last 3 - 4 months. Interested applicants (HBS alumni only) should submit a Volunteer Application. (If this link does not open in your browser, please visit the following page: http://www.surveymonkey.com/s/sharsheret.) Individuals with experience in breakthrough thinking and an interest in healthcare issues are especially encouraged to apply. Qualified volunteers will be contacted to schedule the date for an informational meeting.
For questions about this project, please contact us at communitypartners@hbscny.org.
About Sharsheret
Since its founding in 2001, Sharsheret has responded to more than 25,000 breast cancer and ovarian cancer inquiries, involved more than 1,400 peer supporters, and presented more than 250 educational programs nationwide. In recognition of Sharsheret's important contributions to women's health, Sharsheret was named a recipient of the New York State Innovation in Breast Cancer Early Detection and Research Award, and selected as a member of the LIVESTRONG Young Adult Alliance. In 2010, its Founder and Executive Director was appointed to the Federal Advisory Committee on Breast Cancer in Young Women under the auspices of the Centers for Disease Control and Prevention. For more information, please visit
www.sharsheret.org
.
---
About Community Partners
Founded in 1998, Community Partners is a volunteer program of the Harvard Business School Club of New York (HBSCNY). Our mission is to create constructive partnerships between Harvard Business School alumni and nonprofit organizations in our community, the greater New York City metropolitan area, that seek assistance with business and management issues. We fulfill our mission by organizing teams of HBS alumni volunteers to provide pro bono consulting and business advice to local nonprofit organizations through well-defined consulting and brainstorming projects.
By donating time and management skills, HBS alumni offer nonprofits cost-free access to the kind of professional expertise they may otherwise be unable to afford. In turn, our client nonprofit organizations provide HBS alumni with meaningful opportunities to serve and enrich their community.
If you are unavailable for this project but would like to learn more about future Community Partners projects, please fill out this form.

Find us on Facebook or LinkedIn!