FreshDirect CEO Jason Ackerman Talks about the Future of Retail and Online Food Shopping
Click here to make a reservation
Jason Ackerman founded FreshDirect in 1999 with NYC services launched in 2002. It is now one of the best known online grocers in the U.S. You know the tag line: "Our food is fresh. Our customers are spoiled". FreshDirect delivers fresh foods, 600 prepared entrees and side dishes, and brand-name groceries direct to customers. According to the company, they have over 600,000 customers in New York, New Jersey and Connecticut, and have fulfilled more than 12 million orders through 2012. They have recently been in the press for the expansion of their business, as well as New York City's $128 million package of cash and tax breaks to encourage them to move facilities to the Bronx.

Jason Ackerman, CEO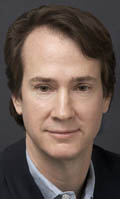 Prior to being CEO of FreshDirect, Jason Ackerman was the company's CFO. Before starting FreshDirect, Jason Ackerman was a Managing Director at Crown Capital Group, a private investment firm. He also previously worked in investment banking in the Food and Retail sectors at Donaldson Lufkin & Jenrette and Drexel Burnham Lambert in New York and Los Angeles. Mr. Ackerman is a graduate of Boston University. He is actively involved with City Harvest and New York's Children's Museum of the Arts.

John Heinbockel, Moderator

John Heinbockel is a Managing Director at Guggenheim Securities. Before arriving in 2010, he was the senior analyst overseeing the food and drug retail sector at Goldman Sachs for 22 years. During that time, he was consistently highly ranked in the Institutional Investor poll and was named to the Wall Street Journal/Starmine "Best on the Street" team for both stock picking and earnings estimation in 2008. He is known, by both company managements and investors, as an excellent strategic thinker. He received his BA in Economics from Fordham University.
Monday, October 22nd
Location: Chadbourne & Parke LLP, 30 Rockefeller Center, 49th St. & 6th Ave., NYC
Time: 6:30pm Registration, 7:00pm Program
Cost: $15 members; $40 Non-members & Guests
RSVP by 3pm on October 19th
Organizer: Ava Seave, '82