Howard Stevenson on Non-Profit Leadership and Fundraising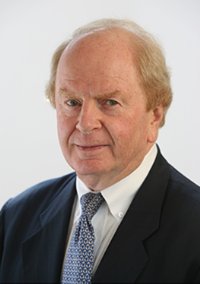 Click here to make a reservation
One of the biggest challenges facing non-profits in the current economic climate is fundraising. The art of raising money is challenging in any environment, but takes on an added significance in times of downturn.

Come hear one of the renowned experts on fundraising, Harvard Business School Professor Howard Stevenson as he shares insights on how to tap into donors, how to successfully raise money and what to do in times of uncertainty.

Stevenson is the author of Getting to Giving: Fundraising the Entrepreneurial Way (Timberline, Sept. '11) and chair of the Harvard Business Publishing Company board.

Speaker Biography:

Howard Stevenson has been a donor and a fundraiser for most of his life. He believes in "giving back" through financial and nonfinancial (expertise and experience) contributions to nonprofit organizations. He has served as vice provost of Harvard University, senior associate dean of Harvard Business School, chair of the Harvard Business School Press, chair of National Public Radio, chair of Sudbury Valley Trustees, a trustee of the Massachusetts Nature Conservancy, and a member of the board of both the Boston Ballet and Mount Auburn Hospital. In all of these organizations, fundraising was an important part of the strategy. He has personally touched gifts totaling many hundreds of million dollars, and has led the teams that secured some of the largest gifts in these organizations' histories. These significant gifts ranged from tens of thousands to more than $100 million.
In his other lives, Stevenson has been an entrepreneur, professor and author. He was the founder and first president of the Baupost Group, Inc., which manages partnerships investing in liquid securities for wealthy families. He now serves as co-chair of the Advisory Board of Baupost LLC, a $21 billion registered investment company. His HBS legacy, in addition to having touched the lives of thousands of students, is the establishment of its entrepreneurship program. Upon his recent retirement, a chair was named in his honor. Stevenson also is a prolific author, having published eleven books, and hundreds of articles and case studies.
Tuesday, September 18, 2012
Location: American Red Cross in Greater New York
520 West 49th Street (between 10th and 11th Avenues)
Time: 7:30 a.m. registration; 8 a.m. discussion. Please register by 3:00pm on September 17th.
Price: $10 members; $20 non-members – includes breakfast
PLEASE NOTE: This is a breakfast event.
Organizers: Maria Ellis OPM 32, Lisa Goldman '95, Robyn Reid '94
Sponsor: Accenture